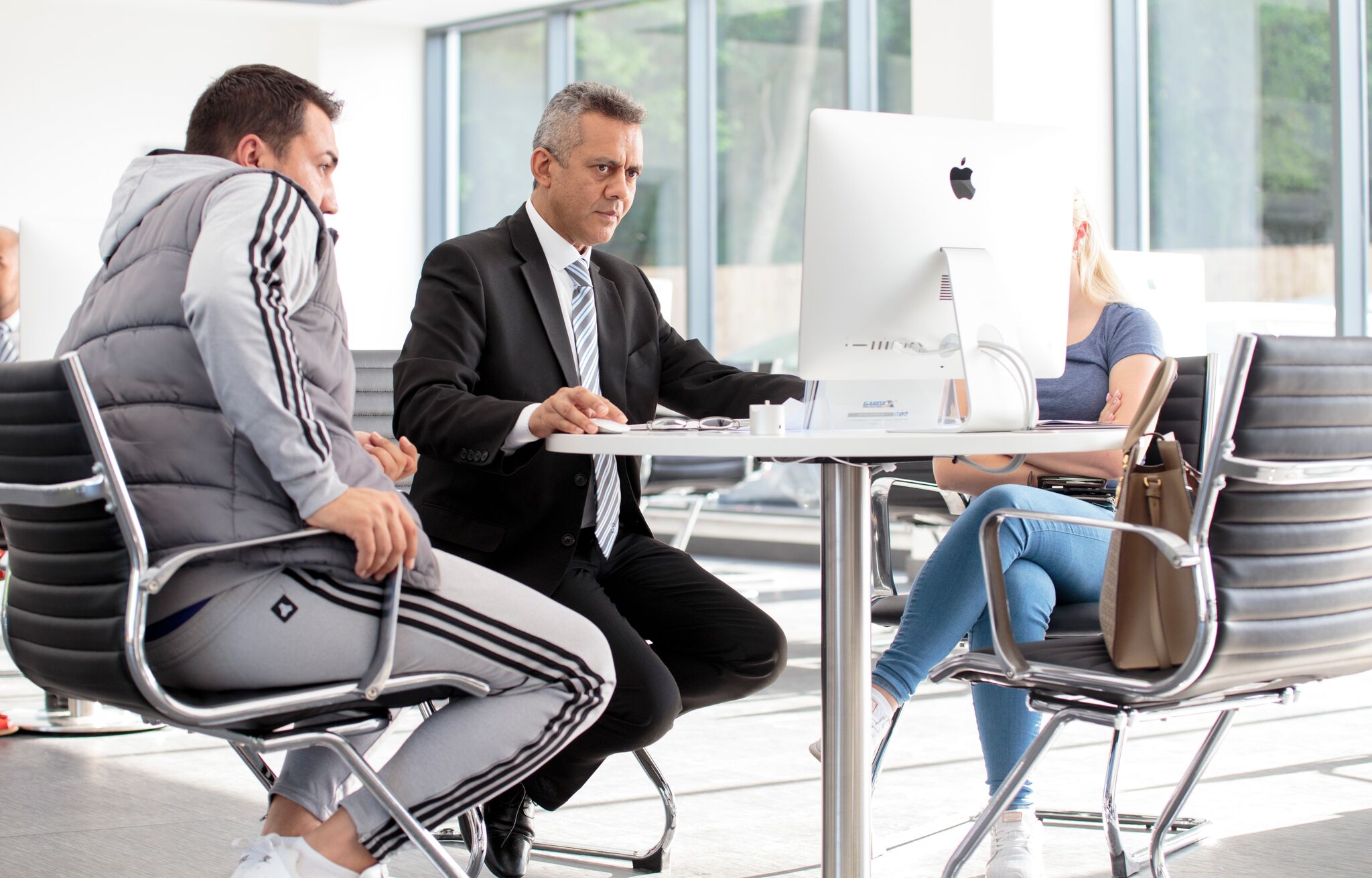 Questions? We've got the answers
If you've got a burning question for us, then take a look through our FAQs to find your answer. If you need further assistance, then get in contact with us here.
Buying a car
How do I reserve a car?
Easily reserve one of our cars online or over the phone with a fully-refundable £99 deposit. This will then hold the car for three whole days to give you enough time to come down for a viewing. Once the three days are up, we'll automatically refund your reservation fee. Please note, you can only reserve a vehicle once. You can also reserve a car inside our dealership by placing a non - refundable £500 deposit to hold the car.Deposits in -store can be placed either by debit card or cash.This will secure the car ready for collection.
What do I need to bring with me to buy a car?
In order to purchase a used car from us, please ensure you have proof of address (a bank statement or utility bill) and proof of ID (a driving license or passport).
Can I test drive a car before purchasing?
Yes, all of our vehicles are ready for you to come and test drive.
What is the administration fee for?
When you purchase a car from us, this charge covers administrative and documentation costs relating to that specific vehicle.
What is a HPI check?
HPI checks look for important information such as whether the car is stolen, has outstanding finance on it, or has been in a declared accident. These checks are provided on all of our cars.
Can I purchase a vehicle online with you?
Currently, we do not sell our cars online. However, we have several state-of-the-art dealerships in London, Kent and Peterborough that you can come and visit to see our cars in the flesh!
Can I pay with cash?
We accept a maximum of £500 cash. Outstanding balances must be paid via debit card or bank transfer.
I've viewed a car I like. Can I place a deposit on it?
Yes, you can. Deposits are a minimum of £500 and are refundable only if we are unable to obtain finance for you.
Are your car prices negotiable?
At Big Motoring World, we're big on a no hassle, no haggle approach. As 90% of our cars are priced below market value, you know you're getting a good deal, so there's no need to haggle.
How long do I have to collect a vehicle once a deposit has been placed on it?
We will hold the vehicle up to 3 days after a deposit has been made.
Can I drive away the same day in a car I have just purchased?
Yes, you can! Our cars are prepped and ready for you to drive away. However, if you are applying for finance, you need to be on site by 3pm in order to take the car the same day.
How do I insure and tax my vehicle?
Since we're big on customer service, our helpful advisors on site will assist you with tax and insurance. Please be aware that when paying for road tax, if you use a commercial credit card for this then you'll receive a £2.50 charge from the DVLA.
Do your cars come with warranty?
Since we're big on peace of mind, we provide a 90 day warranty on all of our cars. This does not affect your statutory rights. You even have the choice to purchase an extended warranty from us to make sure you're covered for longer if anything was to go wrong. These include 1, 2 or 3-year warranty plans.
What does the warranty cover?
You'll be pleased to know that our warranty covers both all major mechanical and electrical components in case of a sudden mechanical breakdown. Parts and labour are also included. Under our warranty, you'll have coverage for the engine, gearbox, transmissions, suspension as well as smaller items such as electric windows and central locking.
Where does our warranty cover?
Our warranty covers UK countries only: England, Northern Ireland, Scotland and Wales.
Selling or part exchanging your car
Do you buy and part exchange cars?
Yes, we do. Whether you're looking to simply get some cash for your old car, or want to offset money from your old car to buy a new one, then we have you covered. Please note, for non-part exchanges, we only buy cars up to six years old with no more than 100,000 miles.
How do I get my car valued?
You can use our online valuation tool to receive an instant, no obligation valuation. Once you have completed this, you will receive your valuation by email so you have all the details ready for when you visit us. Once you visit our dealership, you will receive your final valuation quote once your vehicle has been inspected by our appraisal team.
What do I need to bring with me if I'm looking to sell or part exchange my car?
It is important that you bring all of your car documents, which include the V5 logbook, service history, MOT certificate, the spare key (if you have one), wheel nut keys, handbooks and anything else relating to your car. If you do not have your V5 log book and you're looking to sell your car with us, then unfortunately we will be unable to buy the car from you until you have received this. If you're looking to part exchange, you can place a £250 deposit until we receive the logbook. We can then process the part exchange for you. In order for a sale or part exchange to go ahead, we'll also require a valid UK photo driving licence or your current passport and two original documents providing your current address, dated within the last three months (bank statements, council tax statement, utility bill etc.)
Can I sell or part exchange my car if I have finance on it currently?
We can purchase your vehicle from you with outstanding finance as long as the settlement figure is less than the value of the vehicle. We can then pay off the finance and you will receive any positive equity back. However, if you are in negative equity whereby your vehicle is valued at less than what is owed to the finance company, then this difference will need to be paid first.
What happens if I have a private registration on my vehicle that I wish to sell or part exchange?
You can either put the registration on retention before visiting our site, or alternatively, you can leave a £250 deposit which will be refunded after we have received your V5 document with the original registration on it. One of our helpful advisors will be able to help you with this process.
Why should I sell or part exchange my car with Big Motoring World?
There are several reasons why selling or part exchanging your car with us would be ideal. Firstly, it is an extremely efficient and fast process, taking the hassle out of selling privately and dealing with tyre kickers. We will also offer you our best price guaranteed, providing a competitive valuation that is hard to beat.
Finance
How old do I need to be to apply for finance?
You must be 18 years old or over to apply for finance.
Do you offer soft credit checks before I apply for finance?
Yes, we do. You can use our soft credit check tool to get an idea of whether you'd pass your check based on a term you have selected.
What type of finance do you offer?
We offer both Personal Contact Plan (PCP) and Hire Purchase (HP) options, whereby the plans can be adjusted to suit your requirements. You can find out more about our finance options here.
Who do you work with to provide finance?
We only work with the UK's top lenders which include MotoNovo, Black Horse, Blue Motor Finance, Oodle Car Finance and Creation.co.uk.
What do I need to bring with me to finance a car?
Please make sure you bring recent bank statements (within the last three months), a recent utility bill (within the last three months), bank account details (name, account number, sort code), your driving license (UK or EU) and a passport (as a secondary form of ID).
Can I get finance elsewhere to then purchase a car from you?
We accept external finance, however, we charge an admin fee of £495 for processing and documentation to the third party finance company. Please note, we cannot offer same day drive away if you are financing with an external lender.
Can I be accepted for finance if I have a provisional license?
You can be accepted for finance, however, the lenders are limited and you will be restricted to advance and vehicle type finance only. You will also have to provide proof of fully comprehensive insurance.
Are you able to provide finance to suit my requirements?
Since we're big on peace of mind, our expert finance team will be able to find and recommend the most suitable plans for you, whether you choose to finance your car on a Personal Contract Plan or Hire Purchase.
Can I drive away the same day when purchasing finance?
Yes, you can. You just need to make sure your appointment is before 3pm to ensure the finance is authorised in time.
Are there restrictions on lending?
We can finance a minimum of £2,500 and generally over 3 years, however some of our lenders will finance on a 2 year basis.
I have been living abroad, can I apply for finance?
If you have 3 years unbroken residency within the UK, then you can apply for finance.
Can a company apply for finance?
Any company can finance a vehicle if they have the company registration, company details, trading address, bank details, accountant details, vat registration number (if applicable) and 3 years accounts. There is a possibility that a director guarantee may be required.
Collecting your vehicle
Can I drive away on the same day in a car I've just purchased?
Yes you can. All of our vehicles are ready to drive away. If you are applying for finance however, you will need to be on site by 3pm in order to take the car the same day.
What should I bring?
Please make sure you bring your driving license (UK/EU), your passport and your original payment method. You will need a card to pay the road tax (please note the DVLA charge £2.50 for the use of commercial credit cards). If you want to pay by direct debit for your road tax, then please being your debit card details with you too.
Overseas Customers
Administration fee
For customers exporting a vehicle, the administration fee is £495.
What payment methods do you accept?
You can pay via a UK debit card, a bank transfer, BACS/CHAPS/Faster payments which all have no charge. We do not accept pre-loaded payment cars, such as Soldo or Pockit.
Still have questions?
Talk to us
Email us
Find your next car
Explore our extensive range of used cars to find your next match. With thousands to choose from, you'll be spoilt for choice.
Search 3,647 cars